Autumn Season at SPARC (St Peter's Art Church)
29 September 2022
All available dates: 29 September 2022, 01 October 2022, 04 October 2022, 06 October 2022, 08 October 2022, 15 October 2022, 22 October 2022, 27 October 2022, 12 November 2022, 17 November 2022, 29 November 2022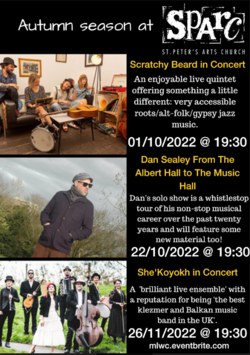 St Peter's Church (SPARC), Cowleigh Bank, Malvern, WR14 1QP
The Parish of Malvern Link with Cowleigh operates three centres of worship each with a distinct focus. St Peter's Arts Church (SPARC) on Cowleigh Bank, The Church of the Ascension on Somers Park Avenue, which provides contemplation and reconciliation workshops and St Matthias, which has a strong community slant. Each space provides different events and activities as well as a growing worshipping community. We are an inclusive church, offering multi-sensory worship to everybody, always.
Take a look at our current events at www.eventbrite.co.uk/o/malvern-link-with-cowleigh These include music, films & concerts for all the family.
Lots of events including:
1st October : Scratchy Beard in Concert
An enjoyable live quintet offering something a little different: very accessible roots/alt-folk/gypsy jazz music.
22 October : Dan Sealey From The Albert Hall to The Music Hall
Dan's solo show is a whistlestop tour of his non-stop musical career over the past twenty years and will feature some new material too! After a notable career with bands such as Ocean Colour Scene and Cosmotheka, Dan is taking his own show on the road. The show features music from all the bands he's been involved with, the often hilarious stories he's amassed along the way and new materiel from the album he is working on due for release early next year.
26 November : She'Koyokh in Concert
A 'brilliant live ensemble' with a reputation for being 'the best klezmer and Balkan music band in the UK'. This award-winning band has a 16-year history as 'a brilliant live ensemble' (Songlines Magazine), and a reputation for being 'the best klezmer and Balkan music band in the UK' (Evening Standard).
Plus other events