Bromsgrove Concerts
Artrix Arts Centre, Slideshow Drive, Bromsgrove, Worcestershire B60 1PQ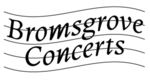 Internationally renowned artists performing classical and contemporary chamber music - 8.00pm on Fridays at Artrix Arts Centre, Bromsgrove, Worcestershire
At Bromsgrove Concerts, we aim to provide programmes that are easily enjoyable while offering a varied and imaginative repertoire, and to regularly introduce audiences to unfamiliar contemporary pieces.
We are particularly keen to extend an invitation to those who may be first-time visitors from across the region; offering a friendly welcome and opportunity to mingle socially. We regularly link up with compatible arts enterprises to encourage those interested to come along and bring their friends. For regular concert-goers there is a cost-effective Season ticket which allows access to all concerts priced at a discounted rate, or a flexible Rover ticket.
Tickets in advance and on the door:
Artrix Arts Centre, Slideshow Drive, Bromsgrove, Worcestershire B60 1PQ
Free parking onsite; restaurant and accommodation adjacent.

Show location on a map