Christ Church, Avenue Road, Malvern
We are only a hundred yards down Avenue Road from Great Malvern Station, next door to Malvern St. James School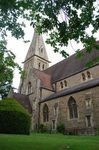 Venue: You can use the Church as a venue; we have a wonderful space and wonderful acoustics. Christ Church Hall. This is a modern hall behind the church available for hire. For prices and availability email churchbooking@btinternet.com.
We are a large grade 2 listed Victorian Church with a dedicated and welcoming congregation. Our services are taken by a regular team of retired clergy and others. We run regular social events aiming to reach out to the wider community. There is a coffee shop on Friday mornings (except Good Friday) which takes place in the modern hall behind the church, where a number of local organisations also meet. Our church is the headquarters of the Malvern Civic Society who met there regularly. It is a popular venue for baptisms and weddings. Its excellent acoustics make it an ideal venue for concerts. It is a local collection point for Operation Christmas Child.
The parish of Christ Church lies to the east of the town centre of Great Malvern in the Barnards Green area. With a population of approximately 8,000 it is the largest parish in the town. Great Malvern began to develop into a popular spa town in the early 19th century. In 1860 the new Great Western Railway station was opened and the impressive Imperial Hotel (now part of Malvern St. James' School ) was built to accommodate the many Victorian visitors who were coming to Malvern for the water cure. A pleasant tree lined approach from the town to the station and the hotel was laid down and named Avenue Road.
By 1865 the farmland below the railway line had been sold to provide housing for the area. A small temporary prefabricated church was erected next to the Parish School in Mill Lane (now Clarence Road) in 1866 to serve the people moving into this rapidly expanding area of the town. The Rev Francis William Davenport was put in charge of this church and his ministrations were so successful that it was soon decided to erect a permanent building.
In 1873 Lady Emily Foley donated a piece of land in Avenue Road on which to build the new church. This fine new church was designed by T D Barry & Sons of Liverpool to seat 700 people at a cost of between £8000 and £9000. Somewhat unusually the foundation stone, laid by Lady Emily Foley on 17th September 1874, was placed part way up the south side of the tower.
The finished building was dedicated as Christ Church by the Bishop of Worcester (Dr Philpott) on 28th December 1875. It was to serve as a memorial to the late Vicar of Malvern Priory, Rev George Fisk, LLB.The Rev F W Davenport, the first Vicar, lived in the Vicarage which had been built on land to the north of the church. This was sold in 1937, to the Girls' College when the Vicarage moved to a large Edwardian house in Christ Church Road.

Show location on a map