Citizen's Advice South Worcestershire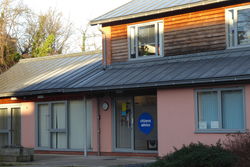 For the past 80 years, Citizens Advice has helped countless numbers of people with everything from debt and benefits to housing and employment issues. Even in an age of being able to search the internet, 'Go to the CAB, they will be able to help' is still sound advice. Marie Henry, CEO at Citizens Advice South Worcestershire tells us more about their valuable work.
You could say that Citizens Advice was forged in the heat of battle. During WW1 the Government recognised the impact that the absence of thousands of servicemen had on families and morale on the home-front. When war was declared again in 1939, Citizens Advice Bureaux were set up across the country to provide information and advice to families waiting at home. Later on they helped them deal with the effects of rationing, the Blitz and the evacuation of their children.
When the war ended, rationing went on and so did CAB. The formation of the welfare state in 1948 added another layer of bureaucracy for everybody to navigate and CAB was there to explain the way through. For 80 years Citizens Advice (CA) has constantly reinvented itself to meet the changing demands of its clients.
CA offers free information, advice and advocacy to anyone who needs it on a wide variety of topics. Most people prefer to visit the office to discuss their problems face to face, but CA also offers telephone consultations or web chats and there is a wealth of information on the website.
Each Citizens Advice is an independent charity which has to raise its own funds. With a small core of paid staff, the majority of advisers and back office staff are trained volunteers. There is financial support from the local authority who recognise the valuable work we do for the community; in the last 12 months we helped 9,000 people across Malvern Hills and Wychavon.
To keep going, we have to raise thousands of pounds every year through the running of services, contracts, sponsorship and community fundraising. It costs around £50 per person to help from start to finish, so we need to raise that 9,000 times! Last year, to celebrate our 80th anniversary, the 80 for 80 campaign was launched to hold fundraising activities with local partner organisations and groups. Among these, our first Charity Ball was held at The Abbey Hotel in November.
We have also produced a calendar with photos of local activities and areas, courtesy of Evesham Camera Club and a recipe book containing over 50 recipes from staff and volunteers. Local support and fundraising is vital for us to continue offering help to the thousands of people who need us at key moments in their lives.
CITIZENS ADVICE
The office of Citizens Advice South Worcestershire is at 52 Prospect Close in Malvern (WR14 2FD). To speak to someone, call (01684) 563611 or email enquiries.malvern@citizensadvicesw.org.uk
www.citizensadvice.org.uk