Coaching for Wellbeing
Based in the Malvern Hills area.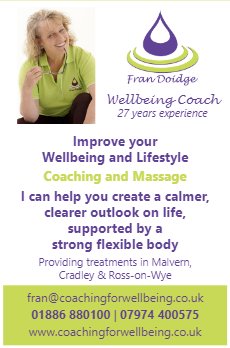 ? Are you in a relationship with a husband, wife, partner, work colleague or friend which is generating conflict or even going through a crisis
? Are you feeling over-powering strong emotions
? Are you feeling frustrated because of restrictions due to long term illness = your relationship with your body

Feel supported, understood and cared for while I give you that extra push you need. Enjoy a safe space where you can lick your wounds - and then get up again and face up to what is happening. Become stronger, clearer and work out what is truly right for you = and make it really happen.
Trust that you really can get out the other side and feel comfortable again using clear coping strategies and a positive mind set.
You are the most important person in your life. Put yourself first.
Either come to me or we can talk on Skype or Zoom. Book your FREE 30 minute taster session.
Call me on 07974 400575 or email me fran@coachingforwellbeing.co.uk
Use Coaching and mindfulness, with massage where relevant, to overcome anger, frustration, anxiety, fear, shame or simply deep hurt.
Add a blend of Aromatherapy essential oils (sent to you) to use at home and you have a powerful therapeutic combination which addresses these feelings and the barrage of thoughts which overwhelm you.

Show location on a map