Colwall Community Church
Colwall Community Church is situated in Walwyn Road in Colwall about 100 yards north of the Post Office. For satnav our postcode is WR13 6QG.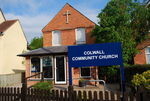 CoCoChu is a community of people who have either already discovered or are on a journey to discovering that there is a God who created them, wants to interact with them and, most importantly, loves them. We are also a family which cares for each other through the many ups and downs of life. Like all families we are not perfect and we get things wrong, but we know we are loved and forgiven and want to share this with the community of Colwall around us.

Show location on a map