Cradley Church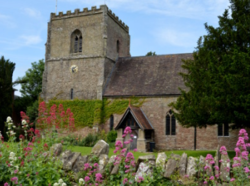 From worship to gigs, social events, workshops and art exhibitions, our local churches serve the community in many different ways.
At St James the Great in Cradley, work has been taking place since the start of the year to conserve parts of the building and to make it a more versatile venue.
The main concern was the tower. A landmark for the village, woodwork in the roof structure had become rotten and needed replacing. Further repairs to the stonework were needed, while inside the building the floor of The Lady Chapel needed to be replaced.
'The entire project cost nearly £300,000 so we were fortunate to receive a National Lottery Heritage Fund grant of £160,000' says John Sands, treasurer for the church. 'On top of that other bodies provided additional funding, topped up by our own very limited funds.'
Maintaining any building can feel like a never-ending task, but when it's a historic building, the job can be even more complicated. Around the millennium, a new frame was constructed in the tower and two new bells were hung. More recently parts of the floor inside the nave have been replaced.
'For the latest floor repairs, the organ was painstakingly dismantled before the job could be completed' says John. 'Now the work is complete, we'll be adding chairs to the area, allowing a more flexible use of this part of the church by various local groups.'
The point of the work is not only to conserve the building but also to widen its use by the community. The recent Flower Festival is one example of this, but John is keen to welcome many more people into the building. 'At the same time as the building work, we've taken the opportunity to add a new kitchen area at the rear of the church' he says, 'with a brand new hob and oven, fridge, dishwasher, water heater and two sinks. This will allow for more ambitious catering and open up the church for a bigger and more diverse range of events.'
Another landmark feature of the building is its clock. Originally installed as a memorial to those who lost their lives in the First World War, it was paid for by public subscription, a fact which is marked with a small plaque inside the tower. While the tower has been clad in scaffolding, the face of the clock has received a makeover paid for by Cradley & Storridge Parish Council, and with a fresh coat of paint, its gilded hands will catch the afternoon sun as a permanent reminder of the importance of this clock, and indeed the church, to the community of Cradley.