Great Malvern Town Walking Tours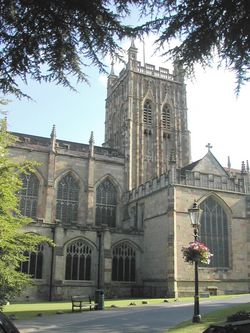 Town Walking Tours
Every week from April to the end of September, we lead guided walks around Great Malvern. The walks start from the Tourist Information Centre (TIC) at 10.30am on Saturday and Monday mornings (including Bank Holidays) starting from 2nd April. The walk lasts about 90 minutes. Sadly, due to the hilly nature of Great Malvern, these walks are unsuitable for the less mobile. Dogs are not allowed on town walks unless they are "assistance" dogs.
Please book a place in advance at the Tourist Information Centre.
All walks are subject to any applicable coronavirus restrictions.
Please check first with the Malvern Tourist Information Centre to avoid disappointment.
Cost: Adults £5; children under 14, free.
Tickets are bookable from the Tourist Information Centre: The Lyttelton Well Courtyard, 6 Church Street (close to the Lyttelton Well Bookshop and Cafe). Tel: 01684 89 22 89
www.malverncivicsociety.org.uk
Walks begin at 10.30 hrs and last about an hour and a half, and are led by enthusiastic and experienced guides. The aim is to show visitors and residents alike the buildings and parks of Great Malvern, giving you a good overview of what it was like in Malvern in former times and what it is like today. The focus is on the Victorian era, with the Water Cure attracting famous visitors like Charles Darwin, Charles Dickens and Florence Nightingale and residents such as the famous composer Edward Elgar, who lived and worked here.

Walks start from the Tourist Information Centre in Church Street, right next to the Lyttelton Well Cafe. Please let the Tourist Information Centre (telephone 01684-892289) know if you are planning to bring a group of ten or more people. The cost is £5 per adult with no charge for children under 14 years old.

Sadly, due to the hilly nature of Great Malvern, the walks are unsuitable for the less mobile.

For more information on how to reserve a place, see the Malvern Civic Society website at:
www.malverncivicsociety.org.uk/malvern-town-walks/
Related Pages
The aim of the Civic Society is to conserve and protect the best elements of Malvern's heritage in the built and natural environment....

Read more »