Green Fingers in Early Spring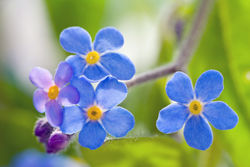 Down at Caves Folly Nursery in Colwall, Bridget is busy getting ready for Spring.
We've had a few months of very mild weather and so the bulbs are emerging waiting for their chance to spring into action. February is a month for getting ready for what's to come, cleaning those tools and giving them a once-over. Its a month to prepare the glasshouse for all the new seeds and cuttings.
Broad Beans, Peas, Spring onions and Parsley can also be sown early with some protection. If you are planting seed potatoes chit them and put them in a light, cool but frost free place. Later on in March almost anything can be sown inside so use those cold winter days to plan and buy your seeds.
In the vegetable garden there is still time to plant bareroot fruit trees and bushes. Prune summer raspberries back to the top of their supports and cut autumn raspberries back to ground level. Add compost or well rotted manure to seed sowing areas.
If you have a glasshouse, coldframe or kitchen window sill, there are lots of seedlings you can start off ready for planting out in April. Early salad leaves such as lettuce, Marvel of Four Seasons is a good hardy variety or try oriental greens such as Mizuna and Mustards.
In the ornamental garden, plant Lilies and Allium bulbs. Cut deciduous hedges if necessary before the birds start nesting. Prune winter flowering shrubs such as
Viburnum Bodnantense and Mahonia. Shrubs grown for their winter stem colours such as Cornus and Salix cultivars should now be cut down to their bases. Cut back deciduous ornamental grasses.
Annuals can be sown in the greenhouse. Plants such as Sweet peas, Cosmos, Agastache, Alyssum, Lobelia, Antirrhinum, Calendula and Dianthus can all be sown early in modules to minimise root disturbance and encourage earlier flowering.
With the growing season upon us it is an exciting time watching everything bursting into life.
Now all we have to do is keep up with it!
Enjoy your February and March, and remember Spring is just around the corner!
Bridget
www.cavesfolly.com
01684 540631