Green Fingers in Spring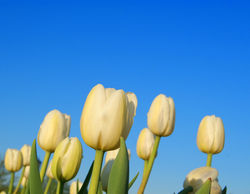 At Caves Folly Nursery in Colwall, Bridget is gearing up for a busy spring.
'Fasten your seat belts' – it's time for the gardener's race against nature! April and May are the most beautiful months in the garden. All the new growth is vibrant and luxurious as buds emerge from even the most dead looking twigs.
We are very busy on the nursery at this time of year, as well as having to prepare for the Malvern Garden Festival 11th-14th May. This will be our 36th year exhibiting at the festival. The RHS and the Three Counties Agricultural Society have created a flower show suitable for all types of gardeners, creating the opportunity for visitors to view wonderful gardens and purchase plants from lots of small specialist nurseries. The theme at the show this year is inspired by Malvern's history as a Spa town. There is a new look to the show with lots of exciting things going on.
Back in our gardens at home there is a lot to do.
Ornamental garden
Perennials such as Lavandula, Gaura, Verbena and Penstemon need pruning to the base in April. Prune early spring shrubs such as Forsythis and Chaenomeles when they have flowered.
It's also fime to finish dividing and replanting herbaceous perennials.
Clip or hard-prune evergreen shrubs and hedges. Trim shrubs such as Hebes to the base or give them some shape. Direct sow annuals such as sunflowers, cornflowers, pot marigolds, cosmos. Don't forget to hoe and weed regularly and add some fertilizer.
In May it's time to plant out summer bedding but watch out for late frosts, covering tender young plants with fleece.
Kitchen Garden
In early April you can sow tomatoes, cucumber, celery, courgette, marrows, squash and celeriac indoors. Sow leeks and brassicas in seedbeds or modules for transplanting later. You can plant second early potatoes in early April and main crop at the end of the month.
The sun has some power to it now so watch plants on windowsills or in a greenhouse don't dry out. Water each morning if sunny.
Sow runner beans, French beans and sweetcorn outside in May. Plant out tomatoes ,courgette and squash towards the end of May. Sow lettuce, mixed salads, radish and spinach in short rows. Do this every 4-6 weeks to have continuous cropping. Once again, be sure to hoe and weed regularly and add fertilizer if necessary.
If you would like to go to The Malvern Spring Festival get your tickets early and save money, phone the Showground on 01684 584924.
The garden at Caves Folly is open for the NGS on Sunday 4th June from 2-5pm, we'll also be serving homemade teas. Admission is £3 with children coming in for free. You'll find us at the bottom of Evendine Lane on Colwall Green.
Caves Folly Nurseries, Evendine Lane, Colwall, WR13 6DX
Thu - Sat 10 - 5
Tel.01684 540631