Green Fingers Limericks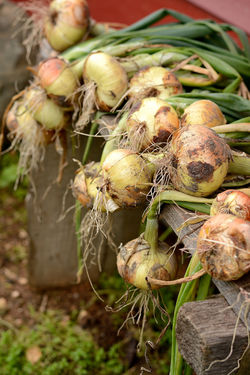 Down at Caves Folly in Colwall, Bridget's found plenty of jobs to to in the garden.
Summer is now in full swing with the warm airfull of the scents of sweet peas, roses, and lime flowers. Make time to enjoy the garden and justsit and enjoy the culmination of your hard work!
Unfortunately, between the odd glass of cider,there are still some jobs to do. In the vegetable garden you can start lifting the main crop potatoes and summer-prune trained fruit trees such as fans, espaliers and cordons.
Keep tomatoes moist. If they show bronze or yellow marks between the leaves they are probably lacking magnesium. Avoid overfeeding the plants and spray the leaves with epsom salts.
Harvest garlic, onions and shallots once the stems start to go yellow. Let the bulbs dry in the sun before storing. Sow oriental greens such as mizuna, mibuna and pak choi. They will be less prone to bolting from now onwards.
Harvest early-maturing apples such as Discovery and James Grieve. It's best to use them soon after picking as they do not store well. Harvest beans, tomatoes and other veg that can be frozen or made into chutney.
In the ornamental garden now is the time to remove dead flower stalks off lavender plants and dead-head other herbaceous plants such as Penstemons and Geraniums. Check that the dry weather is not causing camellias and Rhododendrons to loose their spring buds. Give them a good soak.
There are hedges to clip, wisteria to prune (the current season's growth to five or six leaves) and if you have a wildflower patch, cut it at the end of August and leave to dry for a few days to allow the seeds to drop.
Collect flower seeds to store for next year. Keep in a paper bag somewhere dry and cool. Take cuttings of Penstemon, Salvia, Diascia and other summer flowering half-hardy plants. Keep moist in a shady place. Next year might seem a long way off, but now is the time to order spring flowering bulbs.
I have been at the Ledbury poetry festival this week listening to Michael Palin read some of his poetry and limericks and so I am going to write some of my own! Making up limericks is great fun, why not have a go and make up some garden limericks, send them to the editor, sascha@allabout-local.com and you never know, she might publish them in one of the magazines!
Enjoy the garden!
Bridget
Here are some flower limericks by Bridget:
I picked the first daisy of spring,
Was that such a terrible thing?
The pink and the white
Made such a wonderful sight
But the bumblebee threatened to sting!

The rose is queen of the flowers:
We watch her for hours and hours,
And sometimes I think
She replies with a wink
From the depth of her petal-filled bowers.
And here a limerick sent in by Derek Phillips from Ledbury:
A Bosbury gardener called Fred
Spends most of the time in his shed
He potters about
And only comes out
To enter his greenhouse instead.

A Ledbury man on his plot
Said, "Look at the onions I've got
There's garlic and leeks
Bin growing for weeks,
And down at the end, that shallot.

Tho' useless, a gardener called Elsie
Still yearned to exhibit at Chelsea
And as she was bold
They awarded her "gold",
Which shows that you never can tell, see.