Guided City Tours in Worcester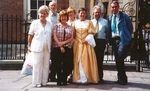 with Worcester Walks
History Brought To Life
Blue and Green badge Guides, a guarantee of excellence
07890 222117
Available all year round
Historic walks around the ancient streets of Worcester reveal the rich heritage and amazing tales of the heroes and villains that have helped create the city as we know it. King John, Sir Edward Elgar, Lord Nelson, Prince Arthur, from Vikings to Roundheads and many others.
Guided City Tours
Leave the Guildhall, High Street at 11am each morning Tues-Sat from Easter to the end of September. Bookings for other times or days may be made by ringing 07890 222117 or by calling into the Tourist Information Centre Guildhall Worcester or via the website.
Walking Tours for Groups
Popular with the U3A, WI's, Rotary, Probus Clubs etc. Walks with family, friends, reunions can be arranged to suit any size of group, any time, any day. Themed walks available. Enquiries call 07890 222117.
Adults £7 per head, children (accompanied & under 12) free, large groups - special rates apply