Heartstart Malvern 6K Challenge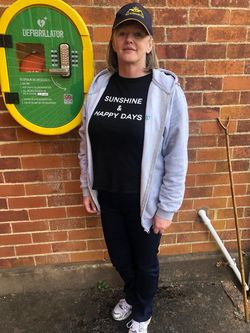 Heartbeat Appeal aims to keep Heartstart Malvern charity ticking over with life-saving 6K Challenge
A cardiac resuscitation charity based in the Malvern Hills has launched a Heartbeat Appeal to raise £6,000 incorporating a 6k challenge, encouraging supporters to complete an activity around the theme of 6K or donate £6 to charity whilst nominating 6 friends to do the same - all in a bid to raise vital funds to keep the charity ticking over throughout the current pandemic.
Heartstart Malvern is a cardiac resuscitation charity run entirely by volunteers. Its aim is to save lives by increasing the chances of surviving a cardiac arrest, throughout the Malvern Hills area, achieved by providing free life-saving training and installing public access defibrillators. There are currently 25 defibrillators located around the Malvern Hills area that are routinely maintained and available for emergency community use.
Reliant entirely on voluntary donations, Heartstart Malvern has been hit hard since the UK went into lockdown as charity walks and numerous other events have had to be cancelled. As lockdown has continued, donations have dried up altogether. However, with monthly overheads averaging £500, Heartstart Malvern has calculated that the impact of the pandemic will last a year, leaving the charity trying to find £6,000 just to keep 'ticking over' until normal training activity, presentations and fundraising events can resume.
In order to raise £6,000 Heartstart Malvern has launched an urgent 'Heartbeat Appeal' and it is inviting supporters to take up their '6K Challenge'.
For the 6K Challenge, Heartstart Malvern asks supporters to take up any activity they like, based on the number or theme of 6K. Participants may wish to walk, jog, run or even lift 6K - in the comfort of their own home or out on their daily exercise, as a family or on their own. Those not wanting to take on the challenge may prefer to donate £6 (although the charity insists any donation, no matter how small, is gratefully received).
To help boost the Heartbeat Appeal supporters are asked to promote details of their challenge on social media with the hashtag #6KChallenge, to tag Heartstart Malvern and to nominate 6 friends for the same challenge, as well as donating £6 if they're able to.
The following link goes to the charity's JustGiving page www.justgiving.com/campaign/HeartstartMalvern6KChallenge