Hedda Gabler at the Coach House Theatre, Malvern
30 March 2023 to 01 April 2023
All available dates: 30 March 2023 to 01 April 2023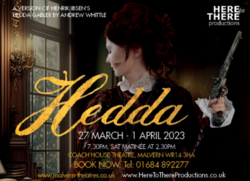 Coach House Theatre, Malvern, WR14 3HA
The performances of Hedda Gabler take place between Monday 27th March and Saturday 1st April each evening at 7.30pm, with an additional matinee performance on Saturday 1st April.
Here To There Productions are pleased to bring Andrew Whittle's version of Henrik Ibsen's Hedda Gabler to the Coach House Theatre in Malvern for seven shows in March.
"I don't even know always what sets it off, but when it happens I'm not responsible for what I say or what I do."
Arriving home after a long honeymoon, Hedda struggles coming to terms with marriage to a man she married for, what she hoped would be, financial security, not love, and moving into a new home she and her new husband cannot afford.
Brought up in a sheltered environment by a single parent, for years Hedda has yearned to grasp life by the throat and enjoy herself. Instead, she feels trapped. Buried alive with years of tedious, intolerable life ahead of her. She plots to break that tedium by the manipulation of those close to her for thirty-six hours, with consequences that even she had not foreseen.
Here to There Productions is a small, independent theatre company based in Ludlow, dedicated to bringing challenging and entertaining productions to the local area. Over the past decade they have produced 35 plays which have been performed everywhere from the region's main theatres to castles, stately homes and even a brewery! You can read more about them and their other productions on their website HereToThereProductions.co.uk
For more information and booking, speak to the box office of Malvern Theatres, (01684) 892277 or visit www.malvern-theatres.co.uk.