Holy Trinity, North Malvern
2 North Malvern Road, Malvern,WR14 4LR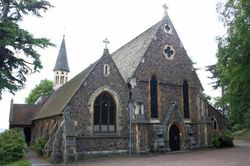 Holy Trinity Church dates from 1851, when it was built to meet the needs of the then rapidly growing industrial and residential community of North Malvern. Over time it has been extended, its facilities developed, and its decoration enhanced. The interior is spacious, light and airy; the Edwardian pews are handsome and comfortable; there is some pleasing stained glass and the chancel has beautiful early Edwardian decorations.
It is said that Elgar practised the organ here. Visitors can enjoy an interior as pleasing and delightful as it was in his day, and an organ just as tuneful! An illustrated history of the foundation, building and growth of Holy Trinity is available in the Church.
Alongside the Church is our Church Hall, with a large upper Hall and a smaller lower room. The building is used by the church and by many local community groups.

Show location on a map