Home-Start South Worcestershire
Postal address: 52 Prospect Close, Malvern, WR14 2FD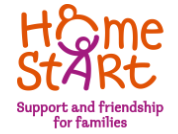 Home-Start believes that children need a happy and secure childhood and that parents play the key role in giving their children a good start in life and helping them to achieve their full potential.
Home-Start Herefordshire is an independent charity which offers support, friendship and practical help to families who are experiencing stress and finding it hard to cope and have at least one child between 0-19
Home-Start offers a unique service. We recruit and train volunteers who are usually parents themselves to visit families at home and offer them informal, friendly and confidential support.

Show location on a map