Ledbury Children's Centre
Ledbury Children's Centre Long Acres, Ledbury, HR8 2BE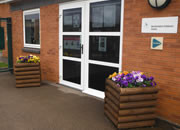 We are able to support and help young children, parent/carers, parents-to-be and families to reach their full potential by offering services that include access to, Health, Early Years Education and Parent Support Services.
You can find Ledbury Children's Centre in the grounds of Ledbury Primary School; please follow the signs situated at the School which direct you down the walk way besides the School and the Centre can be located behind the School.
We are open Monday to Friday (9am-5pm)
Call or email us on the number below for more details.

Show location on a map