Ledbury Community Choir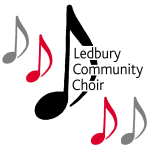 We currently have around 80 members of all ages, singing in 3 or 4 part harmony. We meet every Tuesday for rehearsals in preparation for formal and informal concerts. Our repertoire is growing as we sing a variety of musical styles, including folk songs, popular classics, songs from stage musicals, and well-known standards.
We usually meet at John Masefield School, Ledbury, during term time, 7.30pm on Tuesday evenings. It would be great to see you there.