Ledbury Cricket Club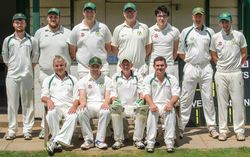 With a new ground and a thriving juniors section, Ledbury Cricket Club has a lot to look forward to this season. The club's vice-chairman Stuart Evans tells us more.
Although we have recently taken possession of a brand-new ground, the club has been in existence for 181 years. The club was formed in 1837 and together with Ross-on-Wye we are the joint oldest club in Herefordshire.
Our traditional home was behind the Full Pitcher pub on a ground which we leased. Because of this, it was always difficult to obtain grants to improve the facilities. Four years ago when the land was put up for development, planning law required the club to have a new home before anything could proceed. With generous support from the landowner (EI Group plc), the Club worked with the developer (Silverwood Partnership) to design and build the new facilities.
Land was purchased on Orlham Lane just off the Ross Road and work to create the ground began in September 2016. Over 3000 cubic metres of soil was moved to level the field, with a bank created for the new pavilion to sit on.
Big earth moving equipment was brought in and the playing surface was professionally laid by a company with experience of working on cricket grounds. Drainage was put in place and two cricket squares were laid with one for the juniors and one for the seniors teams. Sport England ensured the facilities were suitably specified and advice from professional consultants was invaluable in getting everything just right. We also have three lane nets with an artificial surface and I'm proud to say we now have some of the best facilities in the county.
The pavilion was expertly built by Mark Branch, a local builder and we have swapped our dilapidated old pavilion for a superb facility with excellent changing rooms and the new pavilion even includes a kitchen and bar area, we do really feel like we have landed on our feet. Our good fortune is thanks to the hard work of many people, but in particular I should mention Rob Yeoman our Chairman who really was a driving force behind so much of the work that went on.
Last season, our two adult teams finished in mid-table positions, with the firsts playing in Marches League Division Two and the seconds in Marches League Division Three.
We also have regular friendly games on Sundays plus mid week 20 over games for those who prefer to play social cricket. These games also provide an opportunity for some of our junior cricketers to enjoy their first taste of senior cricket.
There's a thriving junior section, with approximately forty children training on Friday evenings. Junior cricket was revived three or four years ago in anticipation of the move to our new ground and we cater for children aged between six and fifteen years old. Last season we entered a team in the local Under 9s cricket league and this season we'll do the same, together with a new Under 13s team.
New junior and adult members are always very welcome, please do get in touch if you'd like more details by calling 07971 857570.