Ledbury Heritage Centre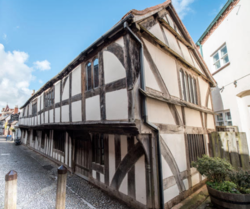 Tucked away in the centre of Ledbury is a gem of a Grade II* Listed 16th century building with an enigmatic history. The Old Grammar School in Church Lane, the much-photographed cobbled street that leads to the parish church, is a long, low, timbered building that you have to duck you head to get into. Little is known about its origins, but we do know that it was a school from the 16th century to 1860, and that it may have had links to the wool trade at some point in its history!
It houses the Heritage Centre which tells the history of Ledbury through its buildings and its trades. Originally maintained and run by the Council, it is now owned by Ledbury Places, a charity established to keep such well-loved and historically important buildings in the ownership of the town, to be used and enjoyed by all.
The Heritage Centre is run entirely by a group of dedicated volunteers and is one of the most visited sites in the town. In 2019 it had 25,023 visitors from as far afield as Australia, Hawaii and South Africa – and it is only open from Easter until the end of October each year! Comments in the visitors book show they love the atmosphere and are fascinated by displays such as the High Street panorama (created by volunteer Pat Strauss) which shows the history of all the businesses. New displays, and better lighting which retains that atmosphere but allows people to access the information on display, are planned for 2020.
This year we have been especially delighted to see how much children have enjoyed visiting the Heritage Centre. Devised by volunteers there are two beautifully illustrated quiz sheets for different age groups which give them the history of the building in an entertaining way. Visiting schools have appreciated the thoughtful way in which volunteers engage with the children, and this link with local schools is something that Ledbury Places would very much like to develop in the future.
If you are looking for a gift then do check out our range of souvenirs: postcards, tea-towels, mugs, historic games and locally made jams have all been very popular. There are more Ledbury-themed gifts in the pipeline for 2020 which include hand-thrown mugs by local potter Fleen Doran and some beautifully designed items show-casing the town's historic buildings.
Above all, our visitors appreciate the knowledge and enthusiasm of the volunteers who staff the Heritage Centre 7 days a week from 10am until 4pm. With the number of visitors the centre gets, the two hour shift is hardly ever dull! We always welcome new volunteers. If you have some time to spare, whether you simply want to do 2 hours once a week or fancy getting involved in developing this wonderful building into something even better, then do get in touch.

Show location on a map