Ledbury Swifts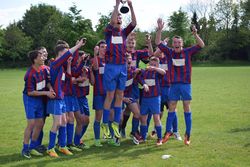 For more than 30 years, Ledbury Swifts Football Club has trained countless numbers of young people and organised countless more games. The Club was formed in 1987 by Ian Colwell and Phillip Hodges and originally played from the Ledbury Town Ground.
Since then, various sites have hosted the club and its now settled in at Ledbury Rugby Club's ground on Ross Road. Here, they play on 5, 7, 9 and 11-a-side football pitches, and during winter training also takes place on the artificial pitches at John Masefield High School twice a week on Tuesdays and Wednesdays.
There are currently around 250 youngsters who are playing members of the club, ranging in age from Under 6 to Under 17. There are 12 age groups for boys and 4 for girls. The club plays in the Hereford Junior Football League and the Hereford Girls Football League.
As well as the pitches at Ross Road, the club manages the New Street Site, providing facilities for both Ledbury Town and Ledbury Town Reserves. When the pitch can stand the wear and tear, the club plays its Under 17 team games and 11-a-side cup matches.
Over the past few years the club has achieved the expansion of girls' football, with four teams now playing regularly. Last season, the Under 17 team (now the current U17 team) won The Stuart Sheenan Cup. There are further achievements and Tom Fairclough who is one of the club's referees won an award as HFA Top Saturday Ref of the year (2016-2017).
The club has forty Level One trained coaches and all club volunteers are DBS-checked and carry out a safeguarding children course as a minimum standard. The club currently holds a community charter standard award - this is updated on an annual basis, to ensure the club continues to meet the required standard and has all the relevant processes and procedures in place.
In June or July of each year the club hosts The Andy Kibble Tournament. Over two days, there are games between local girls and boys teams from the Under 8 to Under 13 age groups. There are plenty of other events as well. Every year there's a run which alternately raises funds for Sport Relief and the club as well as its charity of the year.
Lots of fundraising also takes place to take players on a trip to Sweden. You'll see club members and their parents at events in and around Ledbury, raising money for the visit which takes place this summer.
The club is constantly evolving and aims to meet the growing demand for sport as Ledbury expands. In the future it hopes to become a football development centre along with Ledbury Town Football Club.
Of course the club wouldn't exist without the many dedicated volunteers who help to run it, coach the young players and carry out a thousand and one other jobs, which all help to keep the club running smoothly. If you're interested in helping out, you can email the club's chairman Nick Fish at clubchair@ledburyswiftsfc.org.uk