Let There be Light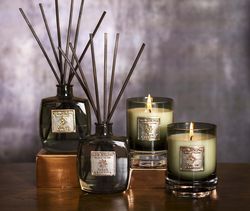 I am writing this piece the day after I have visited the 'Autumn Fair' gift buying extravaganza at the NEC in Birmingham. It is one of the trade shows where the independent and multiple retailers will go to source the gifts they are going to stock in their shops this Christmas time.
You can buy anything from a large chaise longue in leopard print velvet to the smallest most delicate earrings in the shape of a humming bird and everything in-between.
Each retailer is on the search for an insight into the current design trends and insider information as to what is going to be particularly 'hot' this season.
Interior decoration-wise, anything that creates a warming glow and sheds a pool of light is important. Shiny, reflective and burnished surfaces all create that lovely cosy feeling we desire in the colder winter nights. So I have chosen burnished metal tea-light holders and filigree cut lanterns with leaves and natural shapes. Linen table lamps which are simple tubes but have pretty patterns etched on the surface that lets the light shine through. Baby night lights in the shape of stars, moons and fairy castles.
The light shedding trend continues into Christmas decorations this year. I have chosen baubles; stars and angels which are decorated with mini battery powered led lights so that they sparkle softly and do not require mains power, so can be hung in unusual places or displayed in glass bowls or amongst greenery on a mantelpiece.
Hand decorated teal, deep russet red, pink and gold tree decorations again reflect and shine the light back into the room. Natural shapes such as birds, flowers and pine cones look lovely.
The giving of a well chosen gift and the sending of a card can again bring a little light and happiness to those we care about and love. A smile and a friendly hello you receive as you enter the shop can do the same, and it's free. So, good luck as we all try to spread a little light and warmth in the lead up to Christmas this year.
You can find Just So, a unique, independent high quality card, gift, jewellery & homeware shop in Barnards Green in Malvern. It offers a true 'Aladdin's Cave' of gift ideas for all occasions, ages and budgets.
92 Barnards Green, Malvern - 01684 566866