Lizzy's Recipe: Almond Biscotti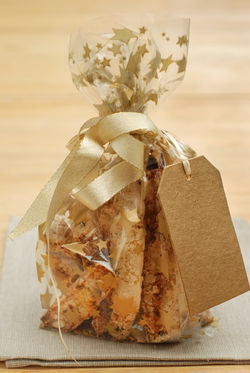 A perfect present for a loved one. Why not bake a batch for Valentine's or Mother's Day?
Makes 12
Ready in one hour
Ingredients:
• 110g caster sugar
• 110g plain flour
• 1 tsp baking powder
• 1 tbsp gram flour
• 2-3 tbsp water
• 55g roughly chopped almonds
Method:
1. Preheat oven to Gas mark 4/180˚C. Place a sheet of baking parchment on a baking tray.
2. Place the ingredients in a bowl and mix until they come together.
3. Knead the dough on a lightly floured surface until smooth and shape into a flattish log shape.
4. Place on the baking tray and bake for 15 minutes.
5. Remove from oven and allow to cool for about 15 minutes.
6. Cut into thin slices (about 1cm thick) and lay back on the baking sheet.
7. Put them back in the oven and cook for a further ten minutes until crisp.
For details of cookery classes and parties see www.ourlizzy.com or contact Lizzy on 01684 892 688. Lizzy also offers tailor made cookery sessions.