Malvern Civic Week 2016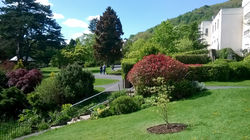 Malvern celebrates summer
Sat 25th June - Sat 2nd July
Eighty years ago, a large crowd gathered in Priory Park to watch the celebrated playwright George Bernard Shaw plant a mulberry tree. A picture from that moment shows him wielding a shovel, throwing the first spadefuls of soil onto the tree's roots.
The tree survived until 2000 when it was blown down in a storm. Fortunately, a cutting of the original tree was sent to Malvern in Victoria, Australia, and now a sapling grown from this cutting is returning to Priory Park. The planting ceremony takes place on Saturday 25th June at Noon in Priory Park and launches a week of events for Civic Week 2016. We only have space here for a few highlights, there's more information on the Civic Society website,
www.malverncivicsociety.org.uk
Kathleen 'Kick' Kennedy – A talk by author Paula Byrne
'Kick' Kennedy was an American socialite and daughter of Joseph P. Kennedy. She was described by the late Duchess of Devonshire as 'someone with more go and vitality than anyone I've ever met, except Jack' (her brother, the former US President).
Monday 27th June, 7.30pm at Malvern College Lewis Lecture Theatre. Tickets £7 from Great Malvern Hotel.
Saving Country Houses - An Illustrated talk by Ben Cowell
Britain's historic environment is recognised as unique. Privately owned historic houses are at the heart of British tourism, attracting visitors from around the world. The Historic Houses Association represents over 1600 of these and its Director General Ben Cowell will reveal more about them and their work.
Tuesday 28th June, 7.30pm at Malvern Theatres, Tickets £10.08 from Malvern Theatres Box Office (01684) 892277
A Walk with Kilvert - Eight readings from Kilvert's Diary by Robert Payne
Francis Kilvert was the Curate of Clyro near Hay on Wye. His diary of daily rural life in the Victorian era has become regarded as a classic work, written with humour and pathos.
Thursday 30th June at Great Malvern Priory, 1pm – 1.30pm. Free entry, donations to Friends of the Priory. Bring your own lunch.
Gardeners' Question Time
A chance to pick the brains of five local gardening experts. Tickets: £7 from Great Malvern Hotel.
Thursday 30th June, 7.30pm at Malvern College Lewis Lecture Theatre
Bygone Malvern – A wander through Malvern's past
Malvern Museum has created digital copies from a collection of glass slides dating from the early part of last century. Cora Weaver presents a fascinating glimpse into the past. There's also the chance to hear the story of recently restored Elmslie House.
Fri 1st July, 7pm at Elmslie House, Avenue Rd WR14 3AG. Tickets £8, Great Malvern Hotel
Gertrude Jekyll: Her Life & Her Art in my Garden
Rosamund Wallinger has recreated the original Jekyll Garden at her home near Baskingstoke and gives an illustrated talk. Saturday 2nd July, 7.30pm at Malvern College Lewis Lecture Theatre, Tickets £7 from Great Malvern Hotel.
Worcestershire Symphony Orchestra
The orchestra gives a summer concert with a programme including works by Vivaldi, Beethoven, Mosart, Haydn and Tartini.
Saturday 2nd July, 7.30pm at Christ Church, Avenue Road, Malvern - Tickets: £12/£10 concessions, one child ticket free per adult ticket, further child tickets £5. Purchase on the door or via enquiries@worcestershiresymphonyorchestra.org.uk