Malvern Community Forest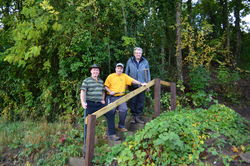 Did you know that the wood from Spindle trees was once used to create spindles for spinning wool? Or that Dogwood was used by butchers to make skewers known as 'dogs'?
hese are just some of the facts being chatted about as volunteers gather for one of the regular Sunday morning working parties at Prospect Community Woodland, just off Pickersleigh Road. Although only a small parcel of land, this is home to a wide variety of native tree species, which in turn supports local wildlife.
'We've seen foxes and cubs here' says Craig Hughes, who is overseeing the careful management of the site. 'The shrubs and undergrowth also support bird life, we've placed bird boxes in some of the trees which have been used this year.'
Managed by Malvern Community Forest, part of the idea is to create somewhere for local people to visit. Steps lead up to an open area with a fantastic view towards the hills. If you want to stop and admire the view there are benches, while foliage from native trees softens the edges of the site.
Today, Malvern Community Forest has around fifty members, many of whom are active in either the work parties or some of the group's many social activities. They also manage Malvern Community Woodland which sits close to the Retail Park at Malvern Link. 'A lot of the trees were planted in the last twenty or so years' says Dave Munday, who oversees the conservation work there, 'although there are pockets of ancient woodland as well. Recently, we've been busy opening up footpaths through the wood, improving habitats for butterflies and we plan to build some footpath bridges to improve access further.'
As well as the working parties, there are mindfulness sessions in the woodland, green woodworking skills are practised and tree identification courses are run. Some members take part in Abundance, a scheme to pick local fruit (mostly apples) which would otherwise go unused in people's gardens and in unused orchards. This season more than 200 bottles of juice have been produced and fruit has been donated to local community groups and given away.
CONTACT DETAILS
New members are always welcome to join Malvern Community Forest, you can read more about them on their website, www.malverncommunityforest.org.uk There are regular working parties at both the Townsend Way and the Prospect Community Woodlands.
For details see the group's Facebook page, call 07966 283280 or email chair@malverncommunityforest.org.uk
Related Pages
Malvern Community Forest's mission is to create and manage recreational and functional forest with a centre for the educational and environmental benefit of the community in the Malvern Chase.

...

Read more »