Malvern Dementia Action Alliance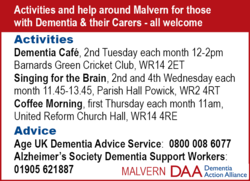 There are 850,000 people living with dementia across the UK. This will rise to a million people in the next eight years and reach two million by the year 2051.
As well as the challenges facing these many people, the financial costs are huge. It's already estimated to cost the UK economy £26.3 billion every year and with stretched services, society risks failing whose people living with dementia as well as their carers.
For this reason, the Dementia Action Alliance has been formed to bring organisations together at a national and local level, with a commitment to transforming outcomes from people affected by dementia.
Launched three years ago, the Malvern Dementia Action Alliance is made up of organisations across the area, working together to improve the lives of people living with dementia. Another aim is to make Malvern a dementia-friendly town, which in practice can mean many things. 'Our aim is to make Malvern a friendlier and more welcoming place for people with dementia, whether they live here or are visiting' says Mark Hamer from the local group. 'If you're not used to being around people with dementia, it can be hard to know how to help them. Locally, we are running short training courses to help raise awareness and help people gain a better understanding.'
The courses of about an hour are open to local businesses and community groups. They are also supporting other initiatives in the Malvern area which include a Dementia Café, Singing for the Brain sessions and an advice service. 'We have many local partners who are already involved' says Mark, 'but it's up to all of us to make a difference.'
To find out more about the Malvern Dementia Action Alliance, visit
www.dementiaaction.org.uk and go to the section marked 'Local DAAs'.