Malvern Family History Society
Meetings at Eden Church,Grovewood Road, near the Malvern Retail Park and next to Malvern Spa Hotel.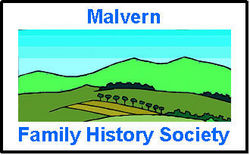 Formed in 1996, it offers a forum for members' interests and provides mutual support in our researches, irrespective of county or country. Most of our members live in the Malvern area, but some live elsewhere in the United Kingdom or abroad.
Most of our 'out of area members' have ancestors who lived at some time in the Malvern area and we endeavour to assist them by discovering what we can about their family connections. We also undertake local projects relating to family history.
Our activities have expanded to cater for our members' needs. Prospective members will find others at a similar stage in their researches whether they are beginners or experienced genealogists. Our research is not confined to ancestors in the Malvern area; indeed most of us have ancestors who lived their lives elsewhere. We are just a group of people who happen to live in Worcestershire, close to Malvern, who meet on a regular basis to exchange ideas, give mutual support and listen to a variety of interesting speakers.
All members receive a copy of our quarterly journal called "Tree Tappers" which comprises articles on all aspects of family history and members' own experiences. We meet 7.30pm, on the first Wednesday evening of the month. With a small annual membership fee - non members are also welcome to attend any of our meetings for a small charge. Go to our website for more information.

Show location on a map
Related Pages
04 October 2023

Interested in your family history? Malvern Family History Society holds monthly meetings on the first Wednesday of the month at The Eden Centre on Grovewood Road in Malvern (WR14 1GD)

Read more »