Malvern Hills Volunteering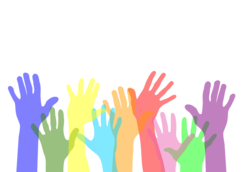 Malvern Hills Volunteering helps anyone who would like to volunteer but is unaware of the range of roles locally. Kay Bromley, who runs the service together with Jacqueline Smith, tells us more.
Volunteering can be a useful way for people who are new to the area to make friends, for those who have recently retired to take up a new interest, to improve CVs and job application forms, to build and maintain confidence after physical or mental illness or for fulfilling part of the Duke of Edinburgh's Award Scheme. Volunteering is a good way of 'job sampling' for anyone considering changing careers. Many people volunteer because they wish to help in their local community to help them to feel connected to it or to 'put something back.' They may find volunteering rewarding and fulfilling.
In the Malvern Hills District we have over 200 volunteering roles available with small local groups or local groups of national charities. The roles range from Trustees who help manage and take charities forward – Chair to Treasurer, working with children with special needs, befriending the elderly, driving patients to medical appointments, youth work, conservation work in nature reserves and on the Malvern Hills, reception tasks, stewarding in local museums, helping at lunch clubs, supporting victims of violence and fundraising. These are just a few examples.
We offer a free, confidential, impartial service and will try to suggest roles appropriate to the person's interests, needs, skills and abilities. The service can be accessed by phone, email or a chat at Malvern Library on Wednesday or Friday mornings from 9.30am to 12.30pm. The sessions are 'drop-in' but appointments can also be made. Malvern Hills Volunteering is a project of South Worcestershire Citizens Advice.
We are a small team of two part time employees and 3 volunteers.
We advertise roles on the national volunteering website, www.do-it.org which works by postcode and areas of interest. Roles are also highlighted online at www.malvernhillsvolunteering.org.uk and kept in a folder, available to the public in Malvern Library. Every quarter we produce a leaflet (available by request or in Malvern Library) of our latest volunteering roles. Recently we have updated our leaflet specifically for young volunteers, under the age of 18 years.
For further information for new volunteers and groups seeking volunteers please contact us by calling 07510 012092, or by email: malvernhillsvolunteering@gmail.com