Malvern Library
Graham Road, Malvern, WR14 2HU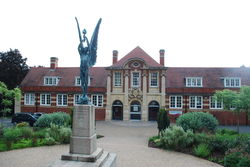 Normal Opening Times:
Monday: 9am - 5pm
Tuesday: 9am - 7pm
Wednesday: 9am - 7pm
Thursday: 9am - 5pm
Friday: 9am - 5pm
Saturday: 9am - 4pm
Facilities & Services:
Access for wheelchairs, Coffee Shop, Exhibition Facilities, Internet public access, Meeting Room, Photocopying (A4 & A3), Public Toilets (Disabled Toilets & Baby Changing Facilities), Scanner, Issue Terminal, Wi-Fi
Children's Facilities:
Malvern Library offers a Children's Library that is well-stocked, a colourful soft seating area and a wide range of activities for pre-school children.
Telephone Enquiries: Call the Worcestershire HUB Libraries and Learning number on . Telephone times: Mon - Fri 8.00 am - 8.00pm, Sat 9.00 am - 5.00pm.

Show location on a map