Malvern Town Football Club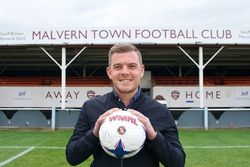 A major million-pound upgrade of the facilities is underway at Malvern Town Football Club.Project 2020 will see the building of new changing facilities and the installation of an advanced artificial grass pitch, which will allow year-round play.
'It's the way things are going' says Chris Pinder, the club's chairman. 'Of course one or two people have raised their eyebrows, but it means we'll never have to call another game off due to bad weather.'
The improvements will cost around £1.2 million and are being funded through a grant from the Football Foundation, a charity funded by the Premier League and FA, alongside funds from the District Council and the club itself. The new changing rooms will be built alongside the existing clubhouse, the pitch will undergo further levelling and a perimeter fence will enclose the site. Car parking and the ground's entrance will be improved and there will be enhancements to the energy efficiency of the clubhouse.
It's a big investment for the site on Langland Avenue. 'I've always believed this is the best place to be' says Chris. 'This will benefit not only local football but the whole community as well. I expect the new facilities will be used for other sports and we're planning to work with local schools who will be able to use it.'
It's hoped the work will start next year and be complete by the year 2020. 'It's only been possible thanks to the support of many people' continues Chris. 'The council gave us a lot of help in submitting our application for the funding. Members of the club's board have brought a huge amount of skills and knowledge with them which has spread the workload and made the whole process a lot more enjoyable. We've created a club with a friendly atmosphere, a good place to come and support local football.'
For a list of pre-season games and future fixtures, visit the club's website: www.malverntown.co.uk