Malvern Outdoor Bowls Club
Manor Park Malvern Sports Club, Albert Road North, Malvern, WR14 2TL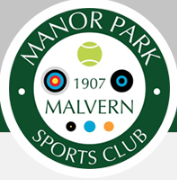 We are a long established club with a friendly atmosphere, bowls is an excellent social game for all ages and abilities.
Why not come to one of our regular Wednesday afternoon or Friday evening roll ups and experience the game.
We will provide help with tuition and equipment together with a cup of tea, a biscuit and friendly chat about the game with members of the club.
You are under no obligation to join the club until you feel able to enjoy the facilities. For the first year membership cost is half the normal fee.
If you do decide to join then you will be provided with a key to the green and pavilion together with a program of games and events for the season. The keys enable you to come and roll up as and when you please

Show location on a map