Our Lizzy Recipe: Autumn Quinoa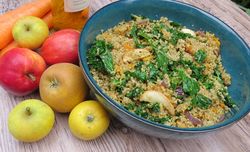 Make a healthy change for good! Try quinoa - it's high in protein and packed with all the essential amino acids your body needs.
Serves 2
Ready in 20 mins
Ingredients
½ cup quinoa
1 cup water
1 red onion, sliced
2 carrots finely shredded
1 small eating apple sliced
1 tsp coriander seeds crushed
1 tbsp sesame seeds crushed
1 inch piece of fresh ginger, grated
2 tbsp extra virgin rapeseed oil
large handful of shredded kale
salt and freshly ground pepper
Method:
Rinse the quinoa well in a sieve.
Add the quinoa to a pan, cover with the water and bring to the boil. Simmer for ten minutes.
Remove from heat, cover and leave to absorb remaining water. Quinoa will increase by 3 to 4 times in volume and when cooked has a light fluffy texture.
Heat oil in a pan, add the red onion, ginger, apple and carrot and cook until starting to caramelise.
Add the crushed coriander seeds and sesame seeds and a good handful of kale. Cook until the kale has wilted then adds the cooked quinoa.
Season well and stir carefully to combine.
For details of cookery classes and parties see www.ourlizzy.com or contact Lizzy on 01684 892 688. Lizzy also offers tailor made cookery sessions.