Our Lizzy Recipe: Herby Greens & Beans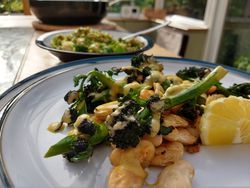 Serves 2 | Ready in ten minutes
A really simple summer dish making use of local vegetables
INGREDIENTS
handful of purple sprouting broccoli, sliced
1 tin butter beans, rinsed and drained
2 cloves garlic, crushed
zest of an orange/lemon
1 red chilli finely chopped
salt and pepper to taste
handful chopped fresh herbs
1 tablespoon oil
METHOD
Put the broccoli in a pan with a small amount of water, cook for a few minutes to soften.
Add the oil, and the beans cook for a few minutes more. Add the chilli and garlic and cook briefly.
Season and add chopped herbs and zest. Drizzle with the dressing.
Dressing
• 1 clove crushed garlic
• I tablespoon tahini
• juice of an orange/lemon
• 2 tablespoons oil
• pinch of salt and freshly ground pepper
Replace the broccoli with asparagus when in season.
For details of cookery classes see www.ourlizzy.com or contact Lizzy on 01684 892 688. Lizzy also offers tailor made cookery sessions.