Our Lizzy Recipe: Root Vegetables with Cranberries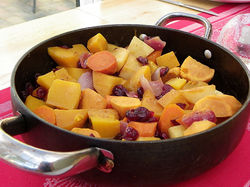 A great way to cook vegetables. The cranberries give a lovely jewelled effect.
Perfect for your festive entertaining!
Serves 4
Ready in 45 min
Ingredients:
500g selection of carrots, parsnips, sweet potato
2 tbsp extra virgin rapeseed oil
1 tbsp brown sugar
tsp ground nutmeg
tsp mixed spice
50g cranberries, fresh or dried
75ml local cider or apple juice
water as needed
salt and black pepper
1. Peel and chop the vegetables. Steam or boil until part cooked. Drain.
2. Put the oil, sugar spices and cider into a pan. Mix well then add the vegetables. Bring to the boil and simmer for about 15 minutes until cooked.
3. Add the cranberries towards the end of the cooking time.
4. Add more water or cider as needed.
For details of cookery classes and parties see www.ourlizzy.com or contact Lizzy on 01684 892 688