Our Lizzy Recipe: Summer Savoury Tarts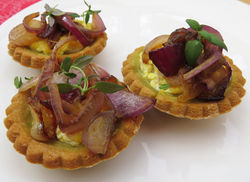 Perfect for picnics or served with a salad for a tasty lunch.
Makes 12
Ready in 30 minutes
Ingredients
200g Shortcrust pastry
1 packet silken tofu
pinch of turmeric
pinch of Marigold bouillon powder
salt and pepper to taste
1 red onion sliced
handful of fresh thyme
Method:
1. Heat oven to 200°C/Gas 6.
2. Place the tofu in a bowl, mash with a fork. Add a pinch of turmeric and a pinch of bouillon powder. Season with salt and pepper.
3. Heat a little oil in a pan and add the onion, cook for a few minutes until caramelised. Add the thyme leaves.
4. Roll out the pastry and cut 12 circles, place in a tart tin.
5. Add a spoonful of filling to each pastry circle and top with the onions and thyme.
6. Bake in the hot oven for 15 minutes until the pastry is crisp and golden.
For details of cookery classes and parties see www.ourlizzy.com or contact Lizzy on 01684 892 688. Lizzy also offers tailor made cookery sessions.