Our Lizzy's Recipe: Cashew & Carrot Roast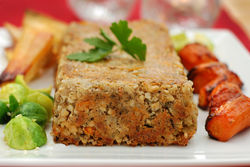 Perfect for your Festive entertaining!
Serves 6 - Ready in 45 minutes
Ingredients
1 medium onion, finely chopped
1 large carrot, grated
2 tbsp rapeseed oil
225g cashew nuts
100g wholemeal bread
275ml vegetable stock
2 tsp herbs
1 tbsp soy sauce
salt and pepper to taste
Method:
1. Preheat the oven to 200°C/Gas 6, grease and line a loaf tin.
2. Place nuts and bread in a food processor and process until they are roughly ground.
3. Heat oil in a large saucepan and sauté onion until soft. Add the grated carrot and cook briefly.
4. Add the stock and herbs bring to the boil then remove from heat.
5. Add the nuts and breadcrumbs and mix well add soy sauce and season.
6. Spoon into prepared loaf tin and bake for 30 minutes until golden brown.
An Our Lizzy Gift Voucher makes a great Christmas present. For details of cookery classes and parties see www.ourlizzy.com or contact Lizzy on 01684 892 688