Our Lizzy's Recipe: Soda Bread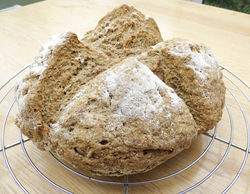 Soda bread is really quick and easy to make. Bicarbonate of soda is used rather than yeast. Perfect with soup or delicious toasted for breakfast!
Makes 1
Ready in 50 minutes
Ingredients:
500g plain white flour/wholemeal flour mixed
1 tsp bicarbonate of soda
1 tsp salt
300ml 'buttermilk'*
Method:
1. Preheat oven to gas 6/electric 200°C.
2. Place the dry ingredients into a large bowl; add the liquid.
3. Mix to make a rough sticky dough.
4. Tip dough out onto lightly floured work surface.
5. Shape the dough into a ball.
6. Dust the dough with flour and score a deep cross on the top with a bread knife.
7. Bake for 35 minutes, or until the bread is cooked through. When you tap the base it should sound hollow. Cool on a wire rack.
*Dairy free 'buttermilk' can be made by adding 4 tsp cider vinegar to 300ml soya milk. Stir and leave for 10 minutes before using.
For details of cookery classes and parties see www.ourlizzy.com or contact Lizzy on 01684 892 688. Lizzy also offers tailor made cookery sessions.