Our Lizzy's Recipe: Tomato & Chestnut Rolls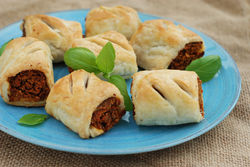 Fun to make your own rolls. Makes a nice change from sandwiches for a picnic.
Makes 6
Ready in 50 mins
Ingredients
300g puff pastry
1 small onion
180g cooked chestnuts
6 sun dried tomatoes finely chopped
2 tbsp sun dried tomato paste
75 -100g breadcrumbs
1 tsp mixed herbs of choice
1 tbsp olive oil
salt & black pepper
Place all the ingredients into a food processor and process until the mixture comes together.
Shape into sausages. This amount will make about 6. Line a tray with baking parchment and place the sausages on it. Chill in the fridge.
Preheat the oven to 200°C/Gas 6
Roll out the pastry to a rectangle 60 x 20cm Trim the edges to neaten. Cut into six even rectangles.
Place a sausage across the top of each pastry rectangle. Roll the pastry to enclose the filling. Brush the pastry edges with water to seal.
Place the sausage rolls on trays lined with parchment. Bake for 30 minutes or until golden-brown and cooked through.
For details of cookery classes and parties see www.ourlizzy.com or contact Lizzy on 01684 892 688. Lizzy also offers tailor made cookery sessions.