Quaker Peace Garden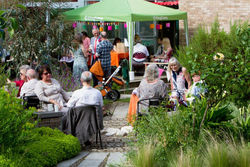 Have you ever visited the Quaker Peace Garden? Situated outside Malvern Cube, it greatly enhances the attractiveness of the site. But it is more than a pleasant garden; the Quaker dimension and the four-part symbolism it embodies lend it a deeper significance. Melanie Jameson tells us more.
You enter the Garden by one of four quadrants; Peace, Truth, Simplicity and Equality. All lead to the centre and each segment is carefully planted to reflect its theme.
The Peace quadrant includes three Peace Roses, reaching up above the other plants. The pathway across this quadrant is broken and haphazard, just as the road to peace-making is fraught with obstacles and diversions. Unlike the path within the Truth section: this is straight and unbending; the planting is erect and distinct while strong colours speak of different truths.
A simple path meandering path signifies Simplicity. Spring bulbs are first seen here. The Equality quadrant is planned as a celebration of opposites – different but equally valued. All will grow together as the garden matures.
This wonderful vision and the regular work of caring for the Garden is thanks to June Baguley. She has revived a rather overgrown plot and re-imagined it in a way that has enhanced its original creation.
It was originally designed for the 2010 Spring Garden Show by Matthew Jackman who had attended a Quaker school. He envisaged his garden as 'a calm thought-provoking and focused space' to reflect the atmosphere at a Quaker meeting. It was awarded a silver medal. Malvern Quakers decided to buy it and set it up in its present location.
Over the years it has been adopted by the local community; passers-by wander along the paths, some stop to sit quietly. June has been approached by bereaved people wishing to pay for a plant in memory of a loved one. It has even played host to a wedding party (see photo).
This garden is for everyone to enjoy, so come and sit, think and enjoy the special ambience.
Malvern Quakers meet on Sunday mornings at the Friends Meeting House on Orchard Road, for further details visit
www.malvernquakers.org.uk
You can read more about Malvern Cube at www.malverncube.com