Recipe: Chocolate Biscuit Cake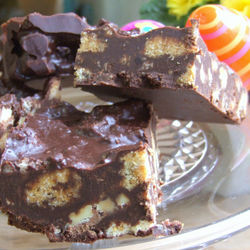 Ingredients
125g chocolate ( I use dark Chocolate)
75g butter
250g Biscuits
1 tablespoon of syrup
Melt chocolate, butter and syrup. Using your hands, break the biscuits to have nice big chunks and add to the melted mixture. Add any extras such as a dessert spoon of cocoa powder, 100g of chopped nuts, glace cherries, mixed fruit, coconut...whatever takes your fancy.
Spread into a baking tin lined with baking paper or cling film - a 6" square tin for thick slabs, an 8" round tin for thinner slices - and leave in a cool place to set, ideally overnight.
Cut into slab or slices with a warm knife... decorate with mini eggs, or crumbled chocolate flake... enjoy!
This recipe was kindly provided by Neil from The Nest near Ledbury, a Family Friendly Deli Cafe serving local and Artisan produce. You can find The Nest on the Hereford Road, a few miles outside Ledbury.