Recipe: Mushroom Noodles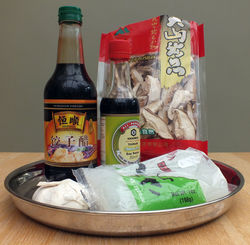 Using ingredients from Sweet and Sour Kraut in Malvern Link. A quick and easy dish using Shirataki yam noodles which are really low in calories!
Ingredients
15g dried shitake mushrooms
198g pack of Shirataki yam noodles (pre-cooked)
1 onion finely sliced
2 cloves garlic crushed large pinch of crushed chillies
2 tbsp oil
1 tbsp brown rice vinegar
1 tbsp tamari
Serves 1
Ready in 10 minutes plus 30 minutess soaking time
Method:
Place the mushrooms in a bowl and cover with boiling water, cover and leave to stand for 30 minutes.
Drain the mushrooms in a colander and pat dry.
Slice the mushrooms finely.
Rinse and drain the noodles.
Heat oil in a wok or shallow pan, add the mushrooms and crushed garlic, cook for a few moments, then add the sliced onion. Cook until soft.
Add the dark rice vinegar, tamari and chilli flakes.
Add the drained noodles and stir well.
Serve immediately topped with fresh parsley or coriander.
From All About Malvern October/November edition 2013
By Lizzy from Our Lizzy Cooking
For details of local cookery classes and parties see www.ourlizzy.com or contact Lizzy on 01684 892 688