Recipe: Sweet Potato and Aduki Bean Triangles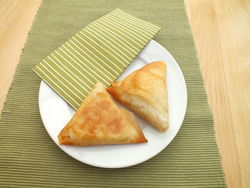 Taken from Our Lizzy's Packed Lunches and Picnics course. Makes a nice change from sandwiches for a picnic.
Makes 12
Ready in 45 min
Ingredients
1 packet of filo pastry
6 tbsp olive oil for brushing
150g sweet potato, cooked
1 tin aduki beans
small handful of chopped spinach
tsp paprika
salt and black pepper to taste
1. Cook, then mash the sweet potato. Add the spinach, beans and paprika. Mix well and season to taste. Allow to cool before filling the pastry.
2. Cut a sheet of filo pastry in half length ways and brush half with oil. Place the other half on top and brush again.
3. Place a large tablespoon of filling at one end of the pastry and fold in a triangle shape.
4. Place on baking tray and brush with oil. Repeat until the pastry or filling is used up.
5. Bake for about 15 to 20 minutes in a pre-heated oven Gas Mark 6/200°C, until crisp and golden.
For details of cookery classes and parties see www.ourlizzy.com or contact Lizzy on 01684 892 688. Book a family cookery session in the school holidays and receive £10 off by mentioning All About Magazines.