Repair Cafe Ledbury
Burgage Hall, Church Lane, Ledbury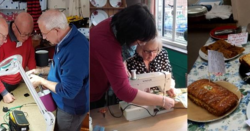 10am to 12.30pm
On the first Saturday of each month
Repairs cafe will attempt to repair your damaged or broken household items in a supportive and friendly way.
Items to consider range from : Clothes, furniture, electrical appliance, toys and more.
It's being organised by Sustainable Ledbury and Susanna Perkins is one of the volunteers behind it.
How does a Repair Café work?
It's very simple. The café opens its doors once a month and is staffed by volunteers who specialise in different kinds of repair. We will do our best to fix anything from clothes to furniture, electrical appliances, crockery, toys and much more.
What's better, we don't charge for the repair. Our primary aim is to prevent household goods from going into landfill. We do, however, welcome a donation on your way out, to help keep it running.
How did the Repair Café begin?
The Repair Café is one of a number of environmental projects run by Sustainable Ledbury, a local group set up last year. Last summer the word went around for volunteers to support it. The response was fantastic, and we now have nearly fifty volunteers. They have taken on all sort of roles, not just the carrying out specialist repairs, but also front-of-house roles such as serving tea and coffee, and making homemade cakes. Repair Cafés are very sociable gatherings and meeting people over a cuppa is a key part of the morning!
Have you had much support?
There are more than 1,500 repair cafés worldwide. Repair Café International is a large and supportive network, and several repair cafés are based nearby. We have visited and talked to Repair Café Malvern Hills as well as Repair Cafés in Newent, Bromyard, Leominster and Hereford.
We've been supported financially by The Repair Café West Midlands Network, while Ledbury Civic Society has been very supportive of Sustainable Ledbury. There are further funding bids in progress to keep the café going, and we hope income from donations will help us acquire the tools and equipment we need for more complex repairs.
When and where can we find the Repair Café?
Repair Café Ledbury will meet on the first Saturday of each month from 10am, with the final repairs taking place at 12.30pm. You'll find us at the Burgage Hall, off Church Lane in the centre of town. We hope to welcome you through the doors soon.
Sustainable Ledbury has a Facebook page with more details of their work.
A voluntary contribution is always welcomed.

Show location on a map