Repair Cafe Malvern Hills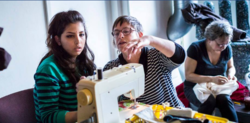 Repair Cafe Malvern Hills open from 10.00 am to 1.00 pm on the third Saturday in each month.
Malvern Cube, Albert Road North, Malvern, WR14 2YF
Need those broken presents fixed? Got a favourite chair that needs a new lease of life?
Bring all these and more to the Repair Cafe Malvern Hills!
CLOTHES, FURNITURE, ELECTRICAL AND OTHER SMALL APPLIANCES, SEWING REPAIRS, TOOL AND KNIFE SHARPENING SERVICE, TOYS AND BICYCLES ALL REPAIRED, free of charge.
The Repair Cafe is about people meeting in a cafe environment to repair things together and receive FREE expert advice and assistance.
Find us on Facebook
Voluntary donations welcome.
Sponsored by Malvern Hills District Council and Transition Malvern Hills