Schola Gregoriana Malverniensis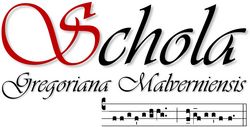 Sung Traditional Latin Mass at St Wulstan's Roman Catholic Church, Wells Road, Little Malvern WR14 4JL
The Schola (i.e. Church Choir) is voluntary, rehearsing weekly on Wednesday evenings 7:30-9:00 in Croft Bank, Malvern WR14 4DX and immediately before sung Traditional Latin Masses organised locally by Extraordinary Malvern (extraordinarymalvern.uk). These are typically on the second and fourth Sundays of each month at 3:00 p.m. in St Wulstan's Roman Catholic Church, Wells Road, Little Malvern WR14 4JL. The Schola may also occasionally sing Mass for other major celebrations of the Church's year.
Our repertoire comprises both Gregorian Chant and polyphonic settings of both the Propers (Introit, Gradual, Alleluia, Offertory & Communion) and the Ordinary of the Mass (Kyrie, Gloria, Credo, Sanctus, & Agnus). The complexity of music sung is adjusted according to the number and abilities of singers available on a given Sunday: from simple Gregorian chant, through three-part psalm-like settings of the Propers, to more well-known motets such as "Sicut cervus" by Palestrina or "Popule meus" by Victoria along with Mass Ordinary settings by, for example, Byrd, Casciolini, Viadana, and Victoria.
The Schola was formed originally in September AD 2015 following closure of the Schola Sancti Ioseph which had formerly sung Mass at St Joseph's RC Church, Newtown Road, Malvern twice monthly for almost eleven years. From 2015 until 2017 the Schola sang Traditional Latin Mass regularly in the private chapel of Spetchley Park, near Worcester.
Singers of all abilities and experience are welcome. If you might be interested in joining the Schola or simply finding out more about us then please get in touch.