Single Boots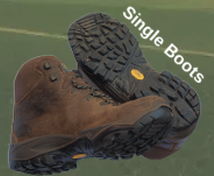 We organize a weekly walk each Sunday of usually between 9 & 12 miles ( sometimes longer!) Walks are led by members & vary from 'Easy' flat terrain to 'Strenuous' mountain walks with everything in between.
They explore a wide area of England & Wales accessible from the Midlands. In Summertime there are some shorter evening walks of 4 or 5 miles often followed by a pub meal or drink. Car sharing is encouraged with publicised meet points e.g Bromsgrove & Studley.
The committee also organises an annual weekend away open to full members over the early May Bank Holiday each year. A wonderful opportunity to get together & explore further afield!
​In addition to this, members arrange several weekends away to areas such as the Lake District, Snowdonia, Peak District, Yorkshire Dales, Dartmoor and Pembrokeshire. The braver souls in the group camp on those weekends, while others in the group use local B & Bs or Youth Hostels. There are plenty of opportunities to socialise on these weekends.
New members are always welcome. If you'd like to speak to someone about our walking group before you sign up, please phone Vivien or Garth.