The Appleyard Dancers
We meet at Earls Croome, Worcestershire village hall on Thursday evenings.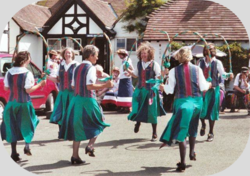 We have male and female musicians who play a variety of instruments including accordian, banjo, drum, fiddle, flute and recorder.
We would welcome new dancers and musicians, beginners or experienced.
For more information please feel free to contact Diana.

Show location on a map