The Arts Society Malvern Hills
Colwall Village Hall
Mill Lane
Colwall WR13 6EQ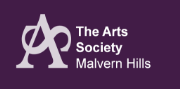 Our Society brings people together through a shared curiosity for the arts. Our events provide welcoming places to hear expert lecturers share their specialist knowledge about the arts. Our members contribute to and preserve our artistic heritage through volunteering and grants. Our work creates a better, healthier and more connected Society.
We arrange a programme of lectures each month from September to May, normally stating at 7:30 pm with tea/coffee available from 7:00 pm. In addition we hold "Days of Special Interest", visits to interesting places within the UK and cultural tours within the UK or overseas.
We contribute to arts projects though local schools or other organisations. Our volunteers work to record the contents of places of worship and to carry out textile and book conservation.

Show location on a map