The Black Pear Gardening Club
Indoor meetings held at Powick Parish Hall, Powick, Worcester WR2 4RT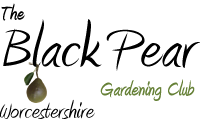 The Black Pear Gardening Club are a gardening club affiliated to the Royal Horticultural Society.
They meet in the parish hall in Powick, Worcestershire, at 2.30 pm on the third Saturday of each month October to March for illustrated talks on topics relating to horticulture and biodiversity. We arrange garden visits in the spring and summer months which are normally are at the same time on the same day. We also arrange coach trips to visit RHS gardens and as an affiliated society a group of up to 55 of our members can gain free entry.
Our programme and contact details are available at: www.blackpeargc.org.uk
We are always delighted to welcome visitors and new members and extend an invitation to visit us at one of our indoor meetings.

Show location on a map