The Bramblewood Project
The Bramblewood Project, Lansdowne Crescent Allotment Gardens, Worcester, WR38JE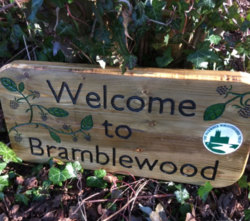 Nestled on the bank of the Worcester and Birmingham Canal, The Bramblewood Project is opening its wonky hazel gate this Autumn. Coordinated by a small Worcester based not-for-profit, Wild and Rooted CIC, The Bramblewood Project offers a woodland space where people can come together to spend time in nature, learn and share woodland skills, and contribute to the conservation of city wildlife.
What's on at Bramblewood:
Forest School for children aged 5-11 years
Children will have the opportunity to explore, build, create, hear and tell stories, cook on the fire, investigate and look after the wildlife and follow their own direction in their play and imagination with the support and back up of qualified Forest School Leaders, an experienced teacher and experienced volunteers.
"Get Stuck In" volunteering at Bramblewood.
A chance to come and 'be' in this little woodland haven, lend a hand and join in conservation tasks, learn or share knowledge about the wood's wildlife, pick up new skills, have a cuppa round the fire on a cold day, and meet new people.
More projects are planned, including Forest School sessions for pre-school children and those educated out of school, family wild days, a community cook out round the fire, storytelling, etc.
Visit our website for up-to-date 'what's on' details.
Conservation at Bramblewood
Bramblewood has grown up on land which was set aside for conservation about 20 years ago; since then, without management, along with its hazel, ash and hawthorn trees, bramble and bindweed have prospered, shading the entire woodland floor and preventing flora and ground dwelling creatures from thriving. Wild and Rooted have devised a management plan to create a mosaic of different types of wildlife habitats across the site, including bramble rich areas, clearings and paths with grassy edges and the hope is to create a wildflower meadow in the future. Bramblewood is also an important "node" or wider wild area on the Worcester and Birmingham canal and we are working closely with the Worcester Canal Group and its canal corridor project to try to support the passage of wildlife through the city. We also work throughout the year, with support from the Duckworth Trust, to keep the area, notorious for littering, clearer.
Getting in touch

For more information or to get involved visit our website
Bookings for sessions can be made through the site or by emailing us. (Given the nature of the site and its location, all visitors to Bramblewood are accompanied.)
Press enquiries to Helen Fairest at wildandrootedcic@gmail.com or on 07432 277720.

Show location on a map